Coconut DF Live@Library Bar 5th Dec 2009 Lincoln UK
Part 1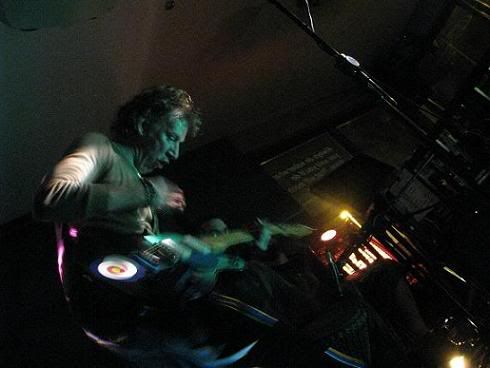 So here we go with another excellent night with live bands from the Lincoln music underground scene.
I traveled over from Spain for the weekend to see the show as I didn't want to miss it. I did attend

Coconut DF

gig on Pats memorial do in Lincoln as well last September but this time it was also our Gaz [Gary Topliss] birthday Party and his band

Helium 3

was playing supporting

Coconut DF

too so it was a perfect excuse to visit

Lincoln

again [Currently most probably my favorite city in England] and also to stay away of this Christmas non sense.

The venue was
The Library Bar
located in the
Brayford University
area of Lincoln which is mostly surrounded by lakes and water.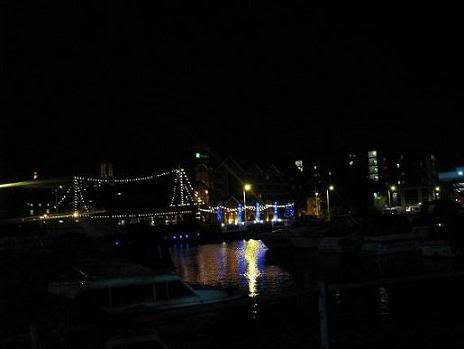 I have visited the Shed before [Which is the next bigger pub-bar] and had a pint or two with Dave there, but didn't noticed the Library Bar so I was a bit curious about the venue. The place has a huge canal and also loads of narrow boats parked there. Swans, ducks and other birds are easily seen on the water.

Dave Fielding

owns a large narrow boat and he lives there with his Cat '

Ooshka

' [

Queen of the night

] .
Apparently its possible to travel all over England with one of those fuckers as all the north and the south is well connected by the canals. They are very well prepared and you can get all facilities you can find in a normal house.
Maybe he will take us one day for a ride?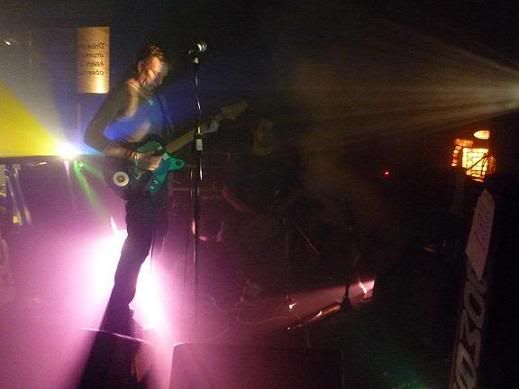 Ethereal ebow

The view at night from the bar is stunning with the lights of the Cathedral and other old buildings from the city. Lincoln has a special feeling very medieval I would say. The weather was cold though but the whole place has a class atmosphere that reminds me some posh sailing clubs here in Spain. And Guinness was very good!


Those were the bands lined up for the night:
Coconut Dog F*@k
Helium 3

Diamond el Fonsbrok and The Dead Baby Parade

Lab Rat&Trouble Djs

Undertone club closed the night.
So around noon I brought some of the equipment from Gaz shed to the venue and also helped a bit to unload the van and set the band gear on the stage. I really enjoyed doing that, it was my first time ever as a stage hand employee! so I hope I didn't bother much

.
our Gaz a Happy man

A pint here and there and most of the drums and boxes were placed and I could see how people started to gather outside the venue. All Lincoln wanted to be there!
Dead Baby Parade and Helium 3 did their usual sound check.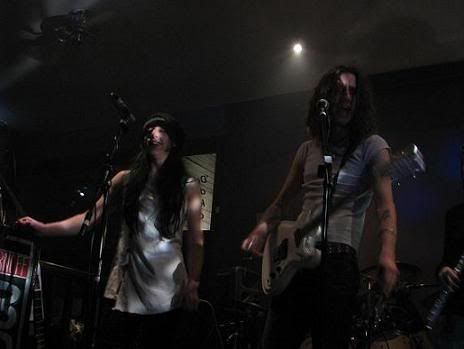 Del-Dead Baby Parade

The day before I saw Helium 3 rehearsing two new tracks . 'Bad Stuff' [?] and 'Angels and Demons'. They both sounded ace to me. ' Josh [Dave Jackson son] deserves a special mention as he joined again with 3 of the bands that played on the night. Drums, bongos and a rather good work with the guitar. Sterling job mate.
Simon-Dead Baby Parade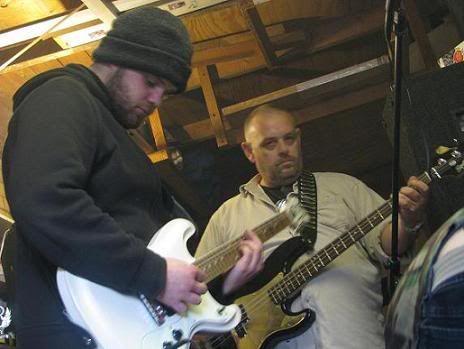 Helium 3 rehersals in Gaz freezing shed
Dave Jackson used to play in the legendary Lincoln cult band AReprisal [Top man, very experienced bass player..and always smiling!] along with his brother Martin and Pete Clayton [Who was there that night too]. Those were the 80s!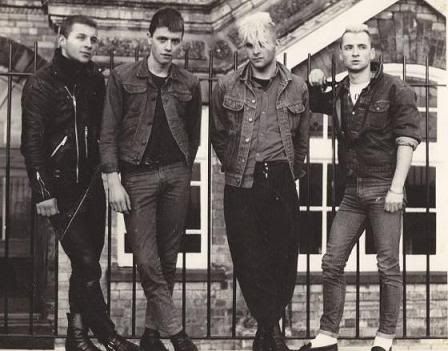 AReprisal-Lincoln Left to right: Dave Jackson, Pete Clayton, ?, Simon Cox
AReprisal-Lincoln
Left to right: Pete Clayton, Simon Cox, Dave Jackson, ?
Dave soundcheck
So Dave Fielding did sound check at the end of the afternoon. The ebow seemed on top form and sounded as good as ever. The first chords had that special feeling that instantly filled the [not for so long] empty room.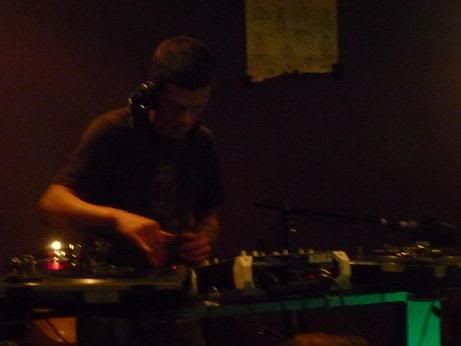 McGinty
Dj LabRat

was the dj opener. Which place better than England to hear the new trends on techno-dance beats?
Mc Ginty blasted a top set.

More soon in Part 2